Our Honest Review of Survey Voices
If you've thought about making money online, it's likely that at some point in time you've heard of making money with surveys. Working with the right survey site can be one of the best ways to earn some extra cash.
The problem is that there are way to many survey sites out there. It's tough to know which survey sites are legit and which ones are a waste of time, or even worse a scam. In this post we're taking a deep dive into survey voices, our experience with them, and whether or not we recommend them as a survey site.
Survey Voices: In Depth Review
Survey Voices is a popular choice for anyone one interested in taking surveys to make money or passive income online. They claim that you can make over 300 per week by completing surveys. It won't make you rich, but you may be able to pay off credit card debt, a car payment, or even consider investing on the side. Investing just a few minutes a day can help you earn points and cash in on your spare time. You also have to consider the kind of freedom that's involved with working with a survey site from a computer, anywhere in the world.
What's great about survey voices is that it's completely free. So you really have nothing to loose. The way survey voices works is that it connects you with survey sites so you can submit your feedback and earn money. Although it's not all rainbows and roses like you might think. Be sure to read the entire article to get a good grasp on survey voices.
Try Survey Voices
Survey Voices Company Overview
Survey voices is owned by Reward Zone USA, LLC. They have a pretty bad online profile that sets off a bit of a red flag. When compared to other more reputable survey companies like Swagbucks, and Survey Junkie they definitely have way more complaints on BBB.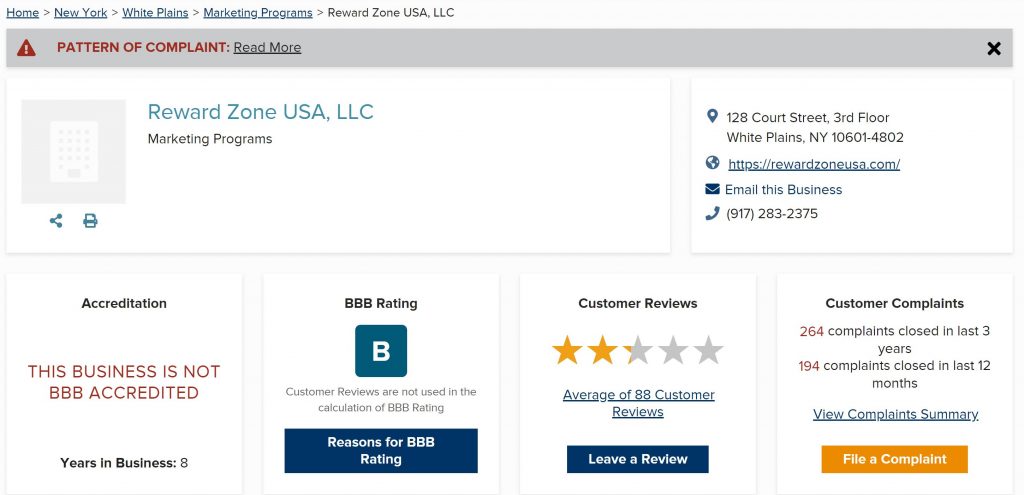 How it Works
The idea is simple: take surveys and get paid in cash or points.
The actual application of this idea is a bit more complex than that. There's a bit of work involved, but what else can you expect, nothing is free, right?
Once you create your account, survey voices takes you to a page that has their list of exclusive offers. This is basically a list of survey sites that are available to you.
Key Benefits of Working With Survey Voices
Earn Extra Cash
Earn over $350 per week (according to them)
High paying surveys
Unique and Exclusive Programs
Many Opportunities and Resources
How You Get Earn Cash or Points
Survey voices connects you with offers and survey sites
Taking surveys for points
Market Research Opportunities
Cons
Survey Voices really just connects you to other survey sites
Some survey sites it connects you with seem like a scam (You'll be able to tell)
Not the fastest way to earn compared to other survey sites
Some companies they connect you with don't seem legit so be careful with you personal information
Swagbucks has a much stronger online reputation and may be a better side hustle
How Much Money Can You Make?
Like I said, they claim you can earn $350 per week. After looking into it online I found that most people working on this earned between $5 to $60 per survey per day. They also have a slot machines where you can win up to $50,000. At the very least, earning $5 per survey isn't too bad for simply spending some time and filling out some surveys.
What Happens After You Sign Up?
To get started with survey voices all you need to do is enter your email. After you confirm your email you'll be able to login to their dashboard. You'll see that the dashboard is very minimal and easy to use. The dashboard will basically show a list of the available surveys you can take, which is really all you need.
Once you log in they will ask you a few questions about who you are. They use this information to find out which surveys you qualify for. This part is very simple and there's no right or wrong answer, you simply fill out your demographic info.
After you've done that it'll match you with the top polls that fit your demographics. You'll then see a list of the top 10 sites that are available to you. Each listing will have a note of how many seats are available. Don't stress over this feature, they just want to add a bit of scarcity to make you sign up faster. Take your time and read through all the available seats.
At the same time you want to be careful not to just try all the survey sites out there. Some of these can be straight up scams.
Other Reputable Survey Sites to Make Money
You may want to consider working directly with a survey site. Survey Voices is not actually a survey site, it is an aggregator. It connects you with survey sites, which is useful, but may not be a good fit for you. If you want to work directly with a poll platform these are some of the more reputable sites out there include:
Survey Junkie – one of the biggest survey sites in the industry. It has been around for years and has positive feedback.
Read our full Survey Junkie review
SwagBucks – another great option for those looking to work with one site. You can earn with Swagbucks in many different ways such as watching ads, taking polls, testing products, and much more.
Read our full Swagbucks review
Inbox Dollars – Inbox dollars can pay you in many different ways, it even pays you to receive emails.
Read our full InboxDollars review
How Survey Voices Pays You
Like I mentioned above, survey voices is not truly a surveying site. Sort of ironic, but they simply connect you with websites where you can take the survey. The value survey voices provides is that they keep you in the loop with any new sites that are established or up and coming. As an example if you take a survey with Swagbucks you get paid through Swagbucks.
Top Benefits
Free to Sign Up
The fact that it's free to sign up makes it really a no risk option. Worst case scenario you get some spam emails, but you're probably already getting those anyways right?
Connects You With Some Legit Companies
Some of the offers they send your way may be well worth your time. Some of them may not. There's a bit of risk, but there's really no other way to find out.
Some of the Issues
Some Sites Aren't the best
Some of the sites it sends your way don't look totally legit. That's something no one wants to deal with. They don't seem to have a strong vetting system in place. You'll be left to do your own research on any opportunity they send your way.
Not the fastest way to earn cash
Some of the surveys I completed only paid me a couple dollars and took about 15 minutes to complete. They claim you can make $350 per week on their site. I don't think that's impossible, but it'll definitely take some work. There are other sites out there that I've been able to earn more per hour.
Important Considerations
If you're thinking about replacing your income with one of these websites you may be asking for too much. These sites are a good source of additional income but they simply cannot support a full living for a few reasons.
The platform will limit how many surveys you can take. Also, some sites pay in rewards and not through cash. Lastly, some surveys may lead to very low dollar per hour earnings. Overall, they are a good source of side income, but that's really it.
Is Survey Voices Legit or Even Worth It?
Survey Voices is not a scam. It connects you with legit surveys that are known and pay well. You answer the surveys and get paid.
Survey Voices is different than other sites out there because it simply connects you to surveys. It does not pay you directly. The benefit of working with them is that you get a list of surveys you can take. This makes it easy to pick the ones that best fit your schedule.
I think you can give it a shot just don't give away your best contact info. In my own personal opinion I think there are better survey sites out there. Here's a quick list of some survey sites I've had good experiences with:
Survey Junkie
Inbox Dollars
If you are willing to take a bit of risk, give survey voices a shot. Like I said, just be careful with your personal info. I'd love to hear your experience in the comments below.