When you're looking to make some cash on the side one of the top ways to do that is through paid online surveys.
One issue you're probably facing is that there are so many different websites out there that claim you can make solid income by answering surveys, but is it true?
Our team went through all of the best paid survey sites on the market to identify those that are high paying, legit, survey sites and those that are not worth your time.
After you complete our extensive review of the top survey website you'll know which ones are best suited for you.
We'll also be going over the most frequently asked questions so stick around and make sure you get through the entire piece of content to maximize your earnings.
Our Rating Strategy for the Top Paid Online Survey Sites
After analyzing over 30 websites available we brought the list down to the 15 best review sites online. Each of the sites were reviewed based on the following metrics:
1. Positive Online Reviews and Customer Feedback – There are so many online scams these days, so choosing sites that are credible and have a positive online profile was crucial in our analysis.
2. Many Available Surveys –  The last thing you'd want is to sing up for a survey site that doesn't offer many surveys. The more options you have the more your earning potential will be.
3. High Income Possibilities – At the end of the day you're taking these surveys to earn more cash. We only included surveys that have a high income potential.
4. Ease of Use – Another important metric we analyzed was how user friendly the platform was on the backend.
Simple Hack – In order to make the most you'll want to sign up for multiple websites since each survey site will offer different surveys. This will let you quickly skim all the surveys from each website and pick the ones that have the highest potential income.
Best Paid Online Survey Sites to Earn Cash
When you join Survey Voices you'll get access to some of the top paid surveys on the web. Survey Voices is a survey aggregator. When you join their community you'll get access to survey companies that have been screened through their vetting process to make sure you get only the highest quality surveys.
Survey Voices offers access to some of the best survey sites with the highest earning potential. Survey Voices is free and available to anyone with internet access and a computer. As long as you're 18 years old you'll be able to join.
Join Survey Voices
According to their website you can earn $300 by simply sharing your opinion. Once you join you'll also get access to exclusive offers and deals that get sent straight to your inbox.
Although they are not a survey website, (they are an aggregator of survey websites) they can still be a good source of high paying surveys.
Join Swagbucks today and get a $10 Sign up Bonus
Swagbucks is at the top of our list for a good reason. They are one of the most reputable online survey sites in the industry.
Swagbucks is one of the best survey sites in the industry for multiple reasons. Aside from being one of the most reliable sites on the market, it's also super convenient since you can download the app and earn on the go.
When you join Swagbucks you'll be able to take surveys and earn rewards that are called "Swagbucks" (SBs). You build SBs and then cash them out through gift cards or PayPal credit which can be basically used as cash.
Over the decade that they've been in business they've earned an A+ rating from the Better Business Bureau (BBB). With tons of reviews on BBB and an average 4.5 star rating they've built a strong online profile that sets the bar high.
When you become a member of Swagbucks you get the unique opportunity to make money from simple day to day activities. In return you'll earn what's called a Swagbuck or SB which can later be redeemed for cashback from PayPal or gift cards from popular companies such as Walmart, JCPenny, and Amazon.
Earning money online has never been simpler. You'll be able to earn SB points by doing online activities such as shopping online, answering paid surveys, watching entertaining videos, playing popular games, taking their offers, and even surfing the web.
The possibilities are endless with Swagbucks. Our review will dive deep into how to platform works and how you can maximize your time to generate the most money with Swagbucks.
How You Can Make Money With Swagbucks
To top things off you can make money with Swagbucks in multiple ways aside from taking surveys. Some of the most popular ways to earn with Swagbucks include:
Taking paid surveys online
Getting cashback when you shop online with major retailers
Earn points as you surf the web with their Yahoo! Powered search engine
Watch entertaining videos online
Play popular online games
Earn through your phone with their app
Use their web search tool
Try Swagbucks
How to maximize your cash earnings and rewards with Swagbucks' Survey Panel
To make the most out of Swabucks you can install their web search tool while you surf the web. This tool simply tracks your searches and you earn points for that.
While you do computer work you can watch videos on the side through split screen on your laptop.
Lastly, when you have some downtime answer their highest paying surveys.
Each survey will tell you how much SBs you'll earn and how long it'll take to complete. This can help you prioritize and maximize your earnings per hour.
Feel free to read our complete Swagbucks review if you want our thorough walk through of the platform.
Join MyPoints and get $5 once you complete 5 surveys
MyPoints is another survey site you should consider joining. They've been in the industry since 1996, much longer than most other sites out there.
At the moment they have over 10 million registered users and have paid their users over 230 million in rewards.
They also offer multiple ways to earn rewards. Some of the top ways you can earn are:
Complete paid surveys
Watch videos online
Play games
Earn cashback when you shop online
Try MyPoints
Survey Junkie is one of the most popular survey sites out there. They are one of the most intuitive platforms that we've encountered.
Survey Junkie rewards you in points that can later be turned into cash. One benefit is that they have the lowest payout threshold. You only need to earn 1,000 points (equivalent to $10), to be able to cashout and get paid. Most other sites have a threshold of $30.
Try Survey Junkie
Most surveys on their platform will earn you 100 to 200 points when you take them. The surveys are usually quick and easy.
They also don't ask for any sensitive info or require a signup to complete a survey. This is a huge pro since many survey sites will not let you complete a survey until you sign up or purchase something which is not user friendly at all.
Once you register with Survey Junkie you just have to browse their surveys, pick one, complete it, and cash out once you reach the $10 minimum payout.
It's super simple to use.
Although they don't offer any other ways to earn than just taking surveys they make it up by offering quick and easy surveys that pay well.
See our full Survey Junkie review
Join today and get a $1 signup bonus
Vindale Research is a reputable company that has been in the industry for well over a decade.
One of the most standout features of their platform is that they don't have a point system. Every survey on their website pays out in cash. So when you finish a survey you get paid in cash right away.
If you're looking to take the highest paying surveys you'll want to sign up for Vindale Research. They offer surveys tha pay up to $50 per survey! That's the highest payout we've seen from any other survey site we've tried.
Vindale Research has paid out millions to their users since first established in 2004. Once you log into their dashboard you'll see they have tons of surveys available for you to take.
How You Earn with Vindale Research
Get a $1 sign up bonus
Take online surveys
Find reward codes on their blog, social pages, and newsletter
Get $5 for referring a friend by simply sharing the link
Submit a photo with your Vindale Payment and earn $5
Opening Emails
Watching videos online
Try Vindale Research
A few things to keep in mind is that you may not qualify for these high paying surveys. You have to fit their specific criteria but you won't know until you register and answer a few basic questions.
If you do qualify these high paying surveys usually take longer than lower paid surveys but they're well worthwhile.
Similar to other sites on this list, you can earn money on Vindale in more ways than just surveys. Some of the most popular ways to earn with Vindale
When you're ready to check out you can choose to get paid through PayPal or check.
With over 3,700 reviews online and an average 4 star rating, they've built a solid reputation in the filed.
Vidale Research offers so many ways to earn (mentioned above) it's one of those few all in one websites where you can earn in almost every way you can think of online.
InboxDollars is a website that let's you earn cash by taking online surveys. With them you can make money from the comfort of your own home, or where ever else you may be. Survey sites like them give you the power to earn more income on demand. There's a reason why almost 25% of Americans work occasionally from home.
InboxDollars is one of the easiest and most user friendly ways to make money online. They're fast, secure, reputable, and pay you for many different online tasks. There's no wonder why it's become so popular over the past few years. A legit way to earn online is through InboxDollars. They pay you in cash, not points for simple online tasks.
Some of the top benefits of working with InboxDollars is that their platform is extremely easy to use and they pay you in cash.
To sign up it takes less than 3 minutes. You enter your email, confirm it and answer a few basic demographic questions to get started.
According to their website they've paid out over $50 million to their users and currently boast over 2 million Facebook likes.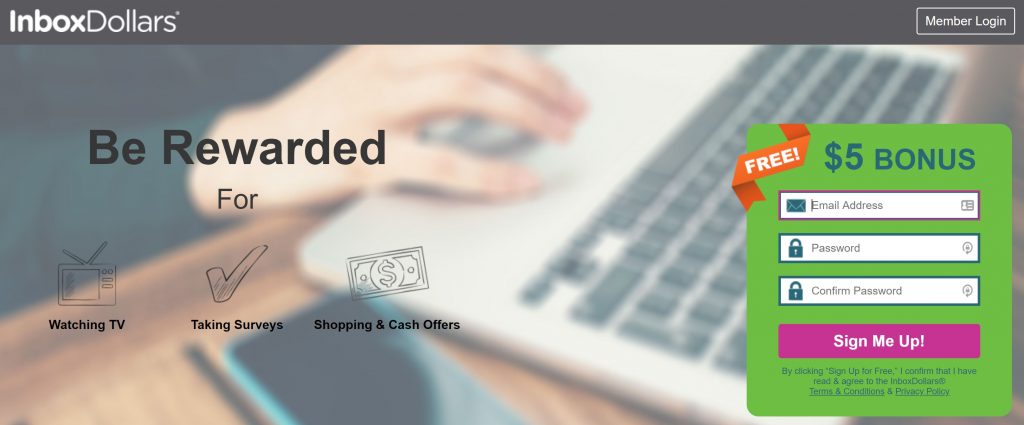 InboxDollars will pay you cash for more than just surveys. Some of the top ways you can earn money with them are:
Taking their paid surveys
Watching videos and TV
Playing their games
Taking advantage of their special offers
Using their coupons
Searching on the web
Referring a friend
Singing up and getting $5
Try Inbox Dollars
What's great about their platform is that they'll tell you exactly how much you'll earn from one survey on their dashboard.
They'll also tell you an estimate of how long they think the survey will take so you have a rough idea of how involved the survey is.
They also separate the surveys based on topics so you can choose a topic that's interesting to you.
InboxDollars is by far one of the best survey sites out there at the moment. They have an extremely user friendly dashboard and are very transparent about the estimated time and earnings per survey.
If you want to learn more feel free our full InboxDollars Review
Pinecone Research is one of the most exclusive product testing and survey sites out on the market. You can only join by being invited. You can't simply sign up by going to their website.
If you get into their network you'll be able to take part in the highest paying surveys and product testing out their. Depending on your demographic info you may or may not receive many offers. Their have been complaints from people not receiving enough surveys to their email, this shows how selective they are with their surveys.
Their minimum payout is $6 for product testing and $3 per survey. If you are part of their network for a while your payments will increase slightly over time.
Whether or not you qualify for their surveys depends entirely on your demographics. They are very picky with who they take in.
If you manage to get into their survey network it's well worth it. They offer high paying deals and high quality products to test.
When you take their surveys they will pay you in their point system which can later be transferred to cash. According to their point system 100 points is equal to $1.
Try Pinecone Research
The minimum number of points required to take your money out is 300 points or $3. This is one of the lowest payout minimums out there.
When you've earned 300 points and want to take your cash you can do so through PayPal or gift cards from Amazon and other top retailers like Walmart.
Overall Pinecone Research is one of the best survey sites that you can join, if you manage to get in.