Getting paid to watch videos sounds like a straight up scam.
Well it isn't. You can seriously get paid to watch videos.
Today we'll discuss how you can earn money online by just watching videos. We will also tell you how much you can get paid. Along with that, we will share with you the 13 best platforms to make money watching videos online.
So, before we get started you need to understand one thing very clearly, we can't claim that you'll become a millionaire by just watching videos. If this was so easy and convenient everyone would be a millionaire, right.
Keeping that fact aside, you can rest assured that you can get some money on the side by watching videos.
That being said, you can apply this simple strategy and make money on the side for your own investments, pay off your bills or even remove some debt.
How to Get Paid to Watch Videos?
There are many sites and applications that pay you to watch videos. When you watch videos that these sites and apps show you, they are collecting some information about you and customers who may be similar to you. This is done by the company to facilitate their marketing.
So, you can see why a company would pay you to watch videos right? They're basically using that information to make their marketing more effective.
When you're ready to get started you just have to watch videos and you will get rewards either in cash or you can also get to redeem your earnings for gift cards.
How Much Money Can You Make Watching Videos?
This is all about how much time you can devote to watching videos. If you put in a few hours per week to watch videos you can expect your earnings between $100-200 per month.
The hourly income of viewers can be between – $2 to $5 per hour.
Keep in mind that watching videos can be done on the side. So this can be money you make on your downtime.
Keep in mind that watching videos can be done on the side. So this can be money you make on your downtime.
13 Ways to Get Paid to Watch Videos Online
All you need to do is – get your device phone or laptop ready and visit the sites or apps we have listed below to instantly make money and get paid to watch videos.
Swagbucks has been in the industry since 2010 and has paid over $348 million dollars to viewers in the form of either cash or gift cards.
Swagbucks offers 10 categories from which you can choose what to watch. These videos may range in length like 30 minutes to 1 hour. There are about 15 -30 videos in a single category which is compiled as a playlist.
To make money, you will have to watch this playlist and every time you do this you will earn Points that you can afterward redeem in the form of cash or gift card. Swagbucks uses PayPal to pay you and whenever you refer someone for signup and they take an action you can earn $10 as a bonus. You may even qualify for a $10 bonus when you sign up with Swagbucks.
Read our Full Swagbucks Review
InboxDollars is very similar to Swagbucks, you get to choose a category and you will have to watch the playlist to earn points. InboxDollars has paid off 50 million dollars to its customers since 2000.
One benefit that you get in InboxDollars is – you get a $5 bonus just by opening your account. You can also earn points to redeem rewards by playing online games, downloading coupons or reading emails. Sign up to earn $5 with Inbox Dollars.
3. LifePoints
Lifepoints provide you a great place where you can share your views and opinions. These opinions and views will be used to shape the marketing campaign of certain companies. You are helping very big and reputable brands who we see every day.
New members who join the LifePoints community automatically get 10 free points. You will have to make 5,500 points or $5 in order to claim your reward. LifePoints uses PayPal to pay you.
This is one of the most trusted and oldest survey sites which can help you earn some extra bucks on your free time. All you have to do is watch videos or take surveys that the site will offer and in return, you can make money on the side.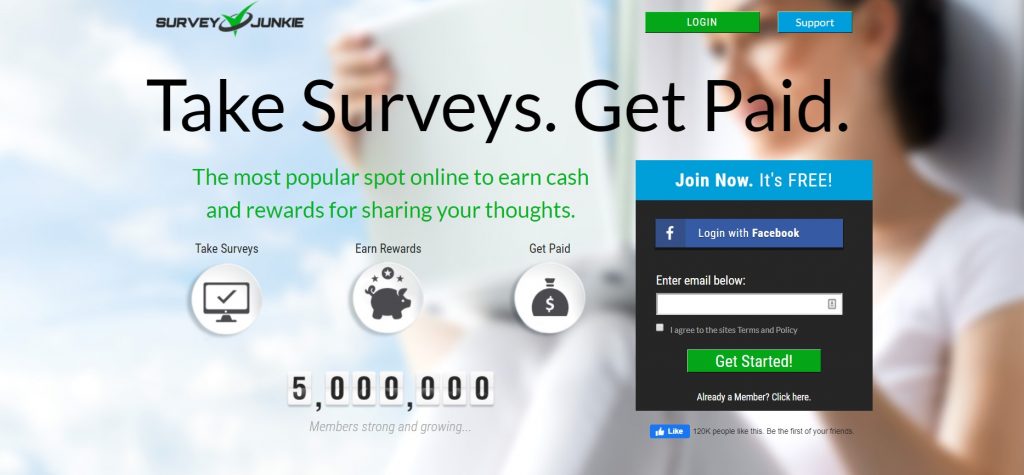 The most notable feature of this site is that – it is very easy to use and operate. The sign up is free plus you will get points when you first signup. Watch videos, earn points and redeem those points for cash or gift cards. If you want to learn all bout survey junkie be sure you read our full Survey Junkie review
Related: Best Places to Answer Paid Online Surveys for Cash
5. Slidejoy
Slidejoy is a money-making app where you have to watch videos, movie trailers or ads in your free time. Want to earn extra points? Just refer your friends from link or Facebook, they will take the action and you will earn points.
Slidejoy allow you to donate your earned points to your favorite charity organization, otherwise, you can cash out your payment with PayPal.
6. iRazoo
This is the platform where you will never get bored. iRazoo updates its videos every day so you don't have to watch a video or a playlist again and again. The entertaining videos include – app trailer, movie reviews, new ads, short films, and cooking trailers.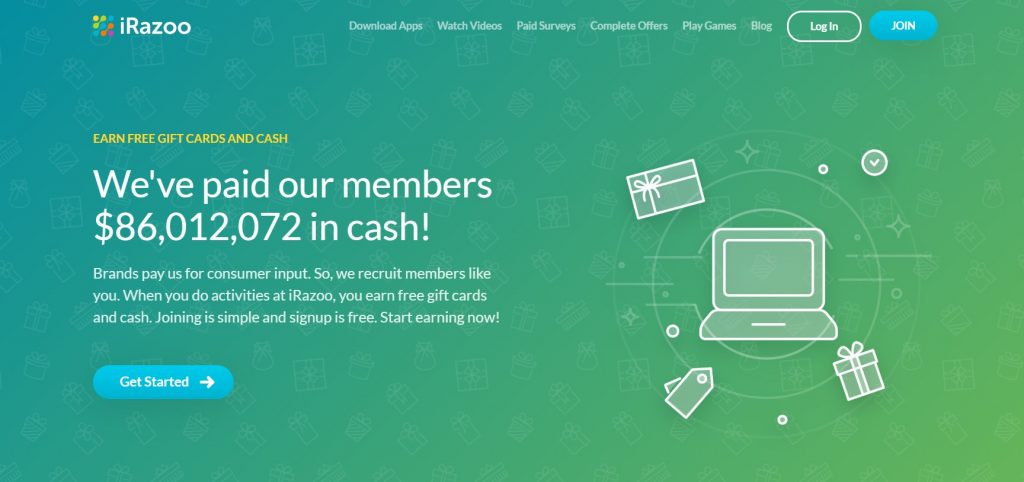 You can earn points by playing online games or sharing your views too. Sign Up and you will get 100 points instantly in your account.
7. Viggle
Viggle is a blessing for those who are into Netflix  and like to stick with Amazon Prime or Hulu. Viggle lets you watch all your favorite movies and videos on your laptop and phone.
Just sign up and download the Viggle application on your device and you will start earning points. These points can be redeemed for gift cards, cash or other rewards.
8. Paid2YouTube
This is another simple platform where you can make easy money. Paid2YouTube allow you to watch YouTube videos and comment on them. In return you get rewards.
You can increase these rewards by referring to the videos. Each comment and subscription from another party will help you earn points and cash. Paid2YouTube uses the PayPal method and you can collect your earnings once it reaches $10.
9. Nielsen TV Ratings
As the name suggests, Nielsen TV Ratings is a platform where you are contributing your time to a company that collects data from a global level in order to provide TV ratings.
Use Nielsen TV Ratings for your advantage and earn $50 per year for watching anything online. What do you need to do? Just download the app in your device and submit your Username and Password with other basic information.
10. SuccessBux
This is another great platform that is increasing its pace in providing services where you have to watch ads online and in return, they will pay you.
SuccessBux also allows you to earn by listening to the radio, taking surveys and referring the platform to friends. All you need to do is visit SuccessBux and fill the necessary details and start collecting your rewards by getting entertained. This is the easiest money you can make.
11. Perk TV
If you are a video game lover, this may be the right opportunity for you to earn by just watching gaming videos or video games. Perk TV pays its viewers for watching movies trailers and other videos too.
You get to earn "Perk Points" and these points can be redeemed for gift cards or cash, or you can also make a donation to your favorite charity organization. . Perk TV gives you options like – using their search engine for browsing and using a shopping portal to earn points.
12. AppTrailers
AppTrailers is a paying application where you get to collect points by watching videos and downloading recommended games and apps in your device. Every time you will complete their given tasks you will earn points that you can later redeem for cash or other rewards.
You don't have to do anything at all, just download the application, install it and follow the given tasks. Your earned points will be transferred to your PayPal account in about a few weeks or one month.
13. You-Cubez
This is an advertising company which is in business since 2007. You-Cubez helps advertisers to sponsor their videos and website. Every time the You-Cubez company will give them views advertisers will pay them back for that service.
All you have to do is sign up and join their community and in return, they will give you videos and website for a survey, you will have to follow and in return, you will get a cut from their earnings. You-Cubez uses PayPal and Payza.
14. (Bonus) Netflix Tagger
This platform allows you a sort of job where you team up with 30 members and watch Netflix content. While watching the content you will have to tag each episode or film with relevant metadata.
This is a dream job for many people out there, and if done correctly you can earn around $70,000 per year.
Get Paid to Watch Videos on Your Downtime
Although these platforms cannot make you rich, they can deliver some cash on your down time. On top of that, these platforms are free and all you need is to invest your time and make pretty easy money.
Which of these have you tried in the past?
Let us know in the comments section. We'd love to hear your feedback.